Alrighty everyone, I know that everyone is getting their grills ready, perhaps packing for camping trips or a jaunt to the beach, BUT we still have to have our Friday Follow Time!
If you haven't heard of Follower Friday Blog Hop – it is a great blog hop designed to help you find new blogs to follow and help bring your blog new followers.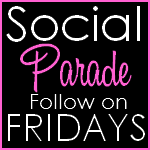 It's easy to join. Simply click on the Social Parade image above which will take you straight to the blog hop. Create a post similar to this, then add your link to the linky at
Smart and Trendy Moms
. Follow as many blogs as you would like. See, super easy!
PLEASE leave a comment so that I know that you stopped by and so that I can come pay you a visit too! I love finding new blogs that share my interests…and I hope that you enjoy your time here at The Chatty Mom.
Welcome to
Fun Follow Friday
hosted by
Simply Stacie
and
My Wee View
. The goal of this hop is to get new Google Friend Connect Followers for your blog and be introduced to new blogs to follow! We wanted to keep it fun and easy so all you have to do is add your blog link and start blog hopping and following away! You aren't required to write a post for your blog for
Fun Follow Friday
unless you want to (but we really appreciate it if you do – to help get the word out).
View complete posting & list:
Fun Friday Follow & Social Parade ~ July 2nd