Alright, I'm heading over to join a new Follower Friday Blog Hop...and I hope that you'll come join us too! I am talking about Smart and Trendy Mom's Social Parade! If you haven't heard of Follower Friday Blog Hop – it is a great blog hop designed to help you find new blogs to follow and help bring your blog new followers.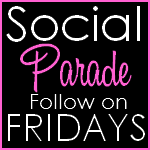 It's easy to join. Simply click on the Social Parade image which will take you straight to the blog hop. Create a post similar to this, then add your link to the linky at Smart and Trendy Moms. Follow as many blogs as you would like. See, super easy!
PLEASE leave a comment so that I know that you stopped by and so that I can come pay you a visit too! I love finding new blogs that share my interests...and I hope that you enjoy your time here at The Chatty Mom.